Moufida Barbouj
Leila C. Saad School El-Metn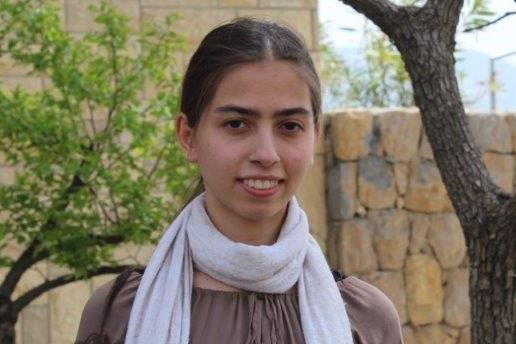 This is the story of a young Syrian refugee who fled her home country with her family and finally got her chance at a top-quality SABIS® education after having been out-of-school for two years.
Moufida Barbouj joined the Leila C. Saad SABIS® School El-Metn in 2012 as a Grade 5 student. Having escaped the war in Syria with her family, Moufida earned refugee status in Lebanon, but she remained out of school for two full academic years because no school was willing to admit her without being able to speak English. (At the time, there were no special programs for refugees in Lebanese public schools). Her luck finally changed when the admissions staff at the Leila C. Saad SABIS® School El-Metn, located in a highdensity area for refugees, saw the potential in her.
When she first came to the school, Moufida started taking English at a KG 3 level even though she was
enrolled in Grade 5. The school developed a plan for Moufida to follow so that she could catch up to her peers. As her classmates learned Grade 5 material, Moufida would sit to the side and work on her own program. The teachers assisted her and closely monitored her progress, and her classmates readily offered her tutoring support.
By the end of her first year at the school, Moufida had managed to learn three levels of English and was
already at a Grade 2 level. Based on her progress, the school prepared a program for her so that she could cover the remaining grade levels. Within three academic years, she was able to catch up with her class. In 2015, Moufida joined the regular Grade 8 classes in all subjects and earned excellent grades. Today, Moufida is in Grade 9 and has an 86% average.
Moufida's academic success has inspired her to help and support others in the same way she was. This year, she was the Head Prefect of the Academic Department in the SABIS Student Life Organization® (SLO®). Moufida is a role model for others, showing the benefits of hard work, and an ambassador who is an inspiration to all the other students.
As Moufida continues to succeed both academically and socially at school, she is also working toward
making her dreams come true. "There is a beam of light behind every horizon. If you don't find the road to success, create one," she says. She hopes to become a cardiologist one day. We wish her the best of
luck!