** SICS Awarded Silver Medal for the 8th Consecutive Year **
Date: Tuesday, May 9, 2017
Contact: Ms. Amy Wesley
Email: awesley@sabis.net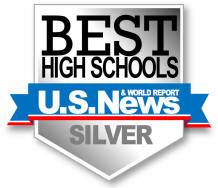 The SABIS® International Charter School (SICS) in Springfield, Massachusetts, recently received its 8th consecutive silver medal from U.S. News & World Report and placed among the "Best High Schools" in the U.S. for 2017. SICS, which was established in 1995 and is a member of the global SABIS® Network, was among only 6,041 public high schools to be selected for a medal out of over more than 22,000 eligible high schools in 50 states and the District of Columbia. SICS was one of only 11 charter schools in Massachusetts to earn a silver medal.
To produce the 2017 Best High Schools rankings, U.S. News & World Report teamed with North Carolina-based RTI International, a global, non-profit social science research firm. A four-step process determined the country's best high schools: The first three steps ensured that the schools serve all of their students well, using their performance on the math and reading parts of their state proficiency tests and their graduation rates as the benchmarks. The fourth step assessed the degree to which schools prepare students for college-level work.
Speaking on behalf of SABIS®, the organization's president, Mr. Carl Bistany, praised the SICS school community for continuing to earn a place on the top high schools' list. "Earning a place on this list over the past eight years shows that SICS is consistently graduating college-ready students," he said, "and this is something to be very proud of." He continued, "The challenge for SICS now is to go for a gold ranking and work even harder to maximize and sustain student growth at every level of the school."
Like all schools within the global SABIS® Network, SICS implements the SABIS® Educational System™, an enriching educational program that helps schools build a reputation for success. In addition to winning the silver medal for eight consecutive years, the SICS track record of success includes a one hundred (100) percent college/university acceptance rate for graduates and more than $12.8 million in college scholarships earned by the SICS Class of 2016.
To view in-depth details about SICS silver medal ranking, visit sab.is/14U4WK. To find out more about SICS, visit sics.sabis.net, and to learn more about the SABIS® Educational System™, visit sabis.net.