SABIS® On-Demand Tutoring Project Supports Students across the Network
Date: Monday, June 18, 2018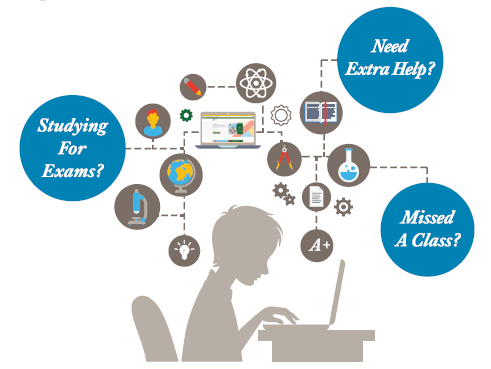 Online, on-demand tutoring has become increasingly popular in recent years as a means to complement classroom instruction and reinforce the learning process. Bringing these benefits and more to students in SABIS® schools, the SABIS® On-Demand Tutoring Project was launched in early 2014. Students who have not fully understood a concept in class, were absent, or want to review a topic before an exam can simply log on to the SABIS® On-Demand Tutoring site through the SABIS® Digital Platform, select a concept, and view a prerecorded video explanation.
In keeping with its strategic approach to technology as a whole, SABIS® developed the On-Demand Tutoring Program with a view to adding value to students' educational experience. The video tutorials use narration prepared by students through the SABIS Student Life Organization® to present each concept. This engagement helps those involved in the production of the tutorials strengthen their own understanding of concepts as they consider the best way to help others understand. Their involvement in the production of the tutorials also fosters the development of essential language arts skills – such as writing and public speaking – and qualities like self-confidence and poise.
"The On-Demand Tutoring Project is a natural extension of the peer tutoring program that is a pillar of the SABIS® Educational System™," said Mr. Roger Soweid, SABIS® Corporate Director – Student Life and Student Management. "The project reinforces the learning that takes place within the classroom and works in tandem with other important elements that form this successful educational system."
Mirroring the proven SABIS Point System® of instruction, all tutorials in the SABIS® On-Demand Tutoring Project begin with a clear explanation of the concept. The tutorials then provide time for the student to pause and practice application of the concept on an exercise. As the video continues, the narrator then demonstrates the solution of the exercise to ensure that the concept has been correctly applied before moving on to yet another exercise.
To date, there are close to 2,000 tutorial videos available covering a wide range of subjects including mathematics, English, biology, physics, chemistry, and science. To access On-Demand Tutoring videos, students simply have to log in to the SABIS® Digital Platform (digitalplatform.sabis.net) and look through the extensive library.