Yara Tawil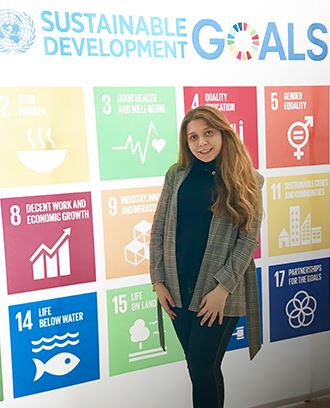 "I graduated from ISC-Choueifat in 2017.
After graduation, I attained a full merit scholarship from George Washington University (GWU). I am majoring in economics. After earning my bachelor's degree, I will be applying to law school. Since starting university, I have been elected to lead GW UNICEF as the Executive Vice President and the United Nations Association, National Capital Area as the Research and Analysis Envoy in Washington, DC. I also work at the GW Office of Undergraduate Admissions.
As a SABIS® graduate, I learned that the energy one puts out is the energy one gets back; I learned to be effective and passionate in my community. Through my involvement in SLO®, I got the opportunity to represent my university at the General Assembly in the United Nations Headquarters in New York for the Global Engagement Summit. Being the Head Prefect of ISC-Choueifat in 2017 is a notable experience that will always remind me of the power of vision, belief, and dedication, as it did through my first year of college."